8th to 12th May 2023
Abuja, Nigeria

Theme: Political Economy in the Built Environment

The focus on assessing the Political Economy of the Built Environment is a natural fit for Shelter Afrique; Which, in recent years, has coalesced its efforts on policy-making and advocacy into the Centre of Excellence (CoE), which will serve as the convener of the Symposium. The core activities coordinated and implemented through the Centre of Excellence include advocacy, research and development, partnerships and capacity development.
Over the past few years, the CoE has organised similar symposiums across several Shelter Afrique member countries, where experts in the industry have converged to discuss and recommend policy and implementation strategies on key sectors affecting the housing and built environment practices in Africa.
For Shelter Afrique, Nigeria is considered to be a key market for the institution; And the proposed symposium indicates a clear commitment of the institution to playing a pivotal role in enhancing the housing and built environment practices in the industry.
The proposed symposium is organized at the backdrop of the recent Shelter Afrique 46₦ billion (US110.7$ million) Series 1 Fixed Rate Senior Unsecured Bond Issuance in Nigeria's capital market under its 200₦ billion (US481.3$ million) bond issuance programme in April 2022.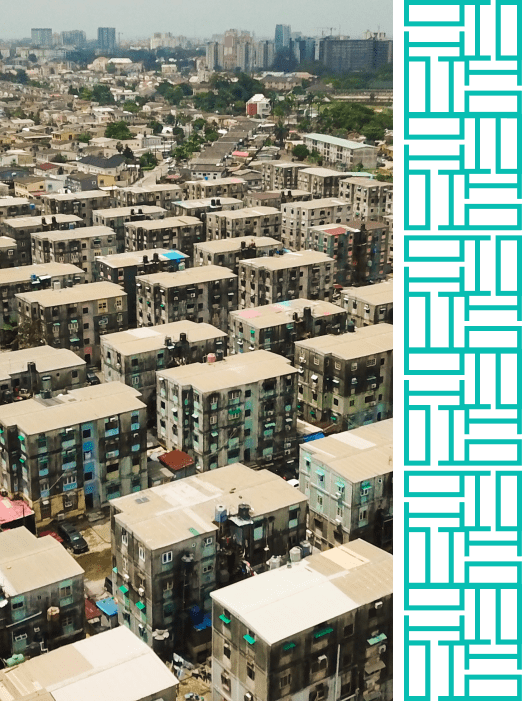 Aerial shot of a public mass housing Neighbourhood in Lagos Nigeria
The bond issuance attracted participation from a diverse range of institutional investors, including pension funds, banks, and insurance companies, supported by an AA rating from GCR Ratings and an A+ rating from Agusto & Co. The high oversubscription demonstrates investors' confidence in Shelter Afrique's mandate to enable housing development in Nigeria and Africa at large, its strong management team, business strategy and credit profile.
The issuance of the Naira-denominated bonds reflects the organisation's desire to focus on tailor-made, long-term funding solutions for the provision of affordable and adequate housing in Nigeria and across Africa.
Key Aspects to be discussed in the Symposium include but are not limited to the following:

What are the political, social, and economic strategies required to enhance Nigeria's and largely Africa's attainment of the affordable housing and urban development targets within the context of the 2030 SDGs and the Agenda 2063 of the African Union Commission?
What measures need to be put in place to manage inflationary pressures and logistical challenges in the industry against the backdrop of the Post COVID pandemic and the effects of the Russia – Ukraine war?
How can emerging technologies be enhanced and scaled for the benefit of the built environment industry?
How can the emerging challenges of conflict-driven displacement and consequent rapid urbanisation be effectively managed?
How can data management be better enhanced for achieving the housing and built environment objectives in the industry?

Introduction & Background
Click to learn more
Case of Nigeria
Click to learn more
Rationale & Gap to Fill
Click to learn more
Speakers
Click to learn more