Transforming Shelter Afrique into a Development Bank for Sustainable Housing and Urban Development in Africa
Basic Information about Algeria...

People's Democratic Republic of Algeria offers a variety of tourist attractions, including historical and cultural sites such as the Roman ruins at Timgad and Djémila. The desert landscapes of the Sahara, including the sand dunes of Erg Chebbi, also attract visitors. Algiers, the capital, has historic districts, bustling markets and fascinating colonial architecture.
Arrival at the Airport
Participants arrive at Algiers 'Houari Boumediene' International Airport which is about 19 kilometres from Algiers city centre. It takes approximately 40 to 55 minutes (35km) by car from the airport to the venue (CIC – Algiers).
The Algerian Ministry of Housing and Urban Development is providing transport to receive the official delegates at the airport. Delegates will be taken to their respective hotels. The Ministers and Heads of Delegation will be given personal cars.
There are also organised and registered airport taxis available to drive you from the airport to the city centre or your hotel. Taxi fares to the city centre vary from between 3,000 and 5,000 dinars (about 20 to 40 US dollars), depending on your destination. However, we recommend that you use transport organised by the Ministry on arrival to ensure a comfortable welcome.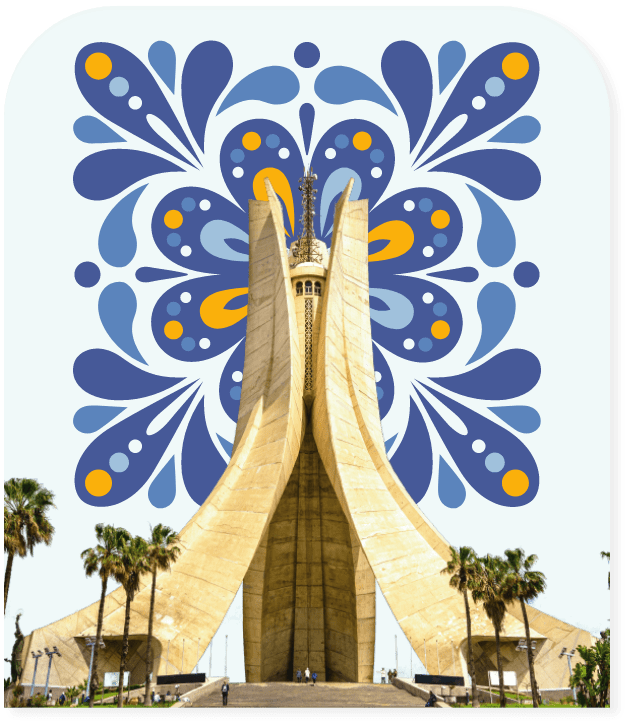 Image of The Maqam Echahid

Visa Requirements
All delegates are required to get an Algerian visa. For more information, contact the nearest Algerian embassy or consulate. In exceptional cases, the host country will plan to issue entry visas locally for those who are unable to obtain one prior to arrival. In this case you are required to pay for your visa at the airport.
The Algerian embassies worldwide have made arrangements to facilitate visa issuance for SHELTER AFRIQUE's Extraordinary General Meeting (EGM).
 It is advised to consult official sources and local information for specific and up-to-date visa requirements for the EGM in the People's Democratic Republic of Algeria or visit the Ministry of Foreign Affairs and National Community Abroad official website: https://www.mfa.gov.dz
Health Care Requirements
Visitors from countries susceptible to yellow fever are required to be vaccinated 10 days before arrival, as well as visitors who have been in transit through these countries for more than 12 hours.
Access to the Conference Venue
All participants must pre-register before the conference to gain access to the event. Participants who have registered online can collect their badges from the registration area. Participants who want to register on site must complete the appropriate registration forms to get their badges.
All registered participants will undergo a security check and are advised to avoid bringing weapons, ammunition, flammable substances or sharp objects.
Participants must produce their passport (for international participants) or identity card (for national participants) to get their badges.
Where can you Collect you Badge?
The main registration centre is at the accommodation venue. Other registration centres will be at the EGM venue. Ministry representatives in charge of welcoming you will guide you upon your arrival at the airport.
VIP Badges for Ministers and Heads of Delegation
Ministers and Heads of Delegation will receive badges without photos, provided they are pre-registered. These badges are available from Tuesday 3 October.
Participants
All Shelter Afrique Member States, Government representatives, interested States and Ministries.
Interpretations
The Shelter Afrique EGM will be held in English, but French interpreters will be available.
Medical Services
Participants are responsible for their own medical expenses incurred during their stay in Algiers. They are therefore advised to take health insurance or to have sufficient funds to cover any medical expenses.
There will be an emergency clinic at the conference venue to provide free medical services for minor illnesses.
Money and Banking
Algeria's official currency is the Algerian Dinar, and banknotes are issued in 500, 1,000 and 2,000 dinar notes, as well as 5, 10, 20, 50, 100 and 200 dinar coins.
Official exchange rates vary, but these are given for information only:  1 USD is equivalent to about 140 dinars, and 1 euro is equivalent to about 150 dinars. It is advised to check current exchange rates with official sources or bureaux de change.
Foreign currency may be exchanged at Houari Boumediene international airport, banks, bureaux de change and hotels. Banks in the main centres are generally open from 9 am to 3 pm from Sunday to Thursday.
Other information
Electricity
The standard voltage is 220 V. Most hotels and venues use the 2-pin wall socket.
Water
Please use bottled water, which is widely available, for guaranteed safe drinking water.
Telecommunications and ICT services
Telephone and Internet services are available inside and outside the hotels and in designated areas at the event venue. Participants are encouraged to travel to Algeria with their mobile phones. A number of GSM service providers offer preloaded SIM cards with call credit, available for between US$1 and US$10, depending on type and quality. Algiers has several operators, such as Mobilis, Djezzy and Ooredoo.
Technical support for presentations is provided by the Algerian Ministry at the meeting venue.
Important phone numbers:
Toll-free numbers:
14: Fire brigade (civil protection)

17: Police:

1055: National Gendarmerie.